At first glance, below, 'in love'. Those hedges ! The dining room. The furniture. The Color choices: historic, Green-Brown-White.
.
Imagine, in your mind's eye, removing the hedges, below. What do you see? You see a mess. Next, keep the hedges, and remove all the perennials planted behind them. What do you see? You see a tidy, more open version: neater.
.
You start gardening with your own stamp and heroics, a decided idea of what will be new & best. Best ever. A season passes, and you see every effort, every dollar, your divine master piece, is all a sham. Worse, it's the most heroic sham ever. Did you out perform me in this arena? I adore you.

.
Worse, you go back to those 'ridiculous' Garden Design Rules, realizing they aren't there to constrict you. They liberate you. Interesting. What you thought shackles, you learn is freedom.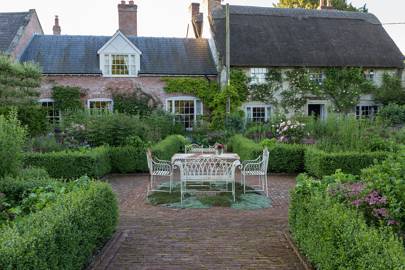 .
Keeping the hedges, above, remove the perennials, and add a few cone shaped evergreens and pleached trees. Pleached trees and shaped evergreens, below.

.