Beloved & I were married on a boat on the St. John's River in DeBary, FL, Valentines Day, 2019. Last second, and perfect.
.
Pic, above,
here
.
.
Early 2010 I met Beloved at a jobsite, he was the contractor, I had drawn the landscape. When my client set up the meeting, she said it was mainly for me to meet him, and make sure, "You keep him in his place." She had worked with him at another property, liked his work, but knew my plan would be a bit different for him. Agrarian, historic, regenerative, today's Modern.
.
Our 'Chapel', above,
here
.
.
We had a good year working together professionally at that site, and others. My longtime contractor,
David Stevens
had died, good contractors in my industry are tough to find, for the types of gardens I create, the new modern agrarian. Landscape contractors make more money with formulaic industrialized landscapes, and their maintenance contract. My gardens are beyond sustainable, (why aim low?), my gardens are regenerative.
.
After yet another working dinner, we were pouring a driveway early next morning for a client, Beloved threw a Hail Mary. He kissed me. More, during the kiss he asked me to marry him. Until that moment, he had been the perfect gentleman. Me, shocked much?
.
A small town boy, I had experienced Beloved's manner with his employees, clients, vendors, and subcontractors for almost a year, with respect. Always appreciating his professionalism towards me.
.
Remember, Love American Style?
.
Pic, above,
here
.
.
It was my turn to move fast. Told him, immediately after that nice Hail Mary kiss, my life was beyond full, and there would be no 'fireworks' until that fullness deflated. He could walk-on-by, or wait.
.
Almost a full decade has passed since Beloved's 1st kiss. There is something I will miss from those years, his proposals. We had a consultation job in Silicone Valley, on acreage, he proposed during a lunch at Fisherman's Wharf. Our table overlooked a tiny marina with 6-8 commercial fishing boats. Took most of lunch to realize the full expanse of the Golden Gate Bridge was just beyond. Boom, proposal.
.
Key West, yep, proposal. Galveston Bay, where I grew up, of course, a proposal. Coast of Maine, proposal. Destin, FL, proposal. Lake Burton, GA, under a seemingly full Milky Way, proposal. Flying over Cuba, proposal. Jamaica, proposal. Lake Erie, proposal. Niagara Falls, proposal. Pittsburgh, Duquesne Incline, proposal. Moultrie, Georgia, proposal. The High Line Garden, New York City, a proposal. Jekyll Island, Georgia, proposal. More of course, then last December the oddest proposal, but still a surprise, in a parking lot, about to eat at our favorite local Italian restaurant at Lake Oconee. This time I scared Beloved. I said, "Yes, and let's put a date on it."
.
Weeks passed, and Feb. 1st he said we needed to get serious about a wedding, or it would be another year. He asked me in all the world where would I like to get married. The pontoon boat Eco Tour of the St. Johns River we had taken a year earlier had been like entering a hologram from a diorama at the American Museum of Natural History. But better, it was being part of God's majesty. Too rare those moments, in our industrialized world.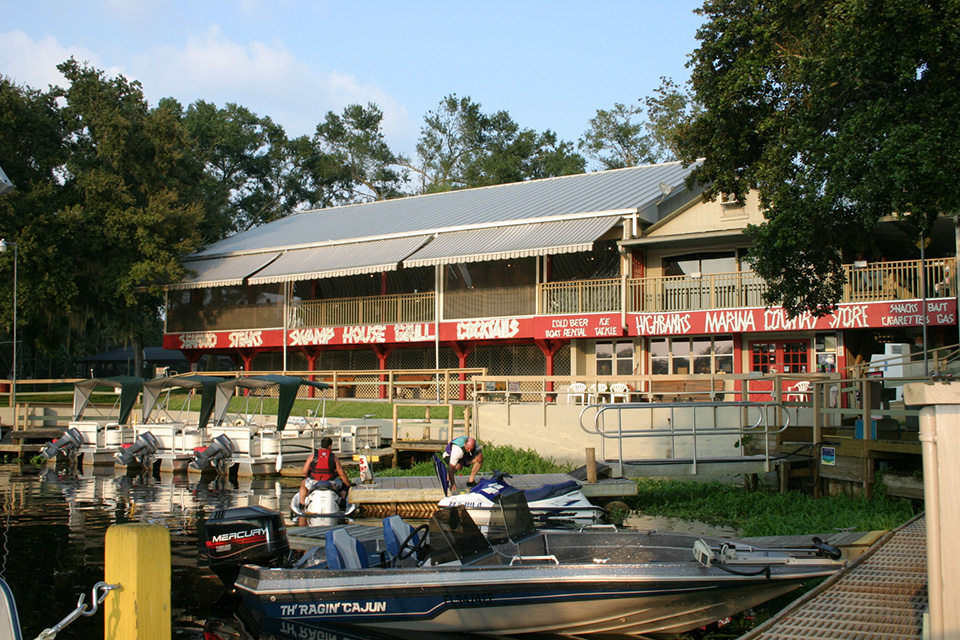 Wedding Reception, above,
The Swamp House
.
.
With less than 2 weeks putting the wedding together, the boat was full. We hired the boat,
Eco Tours
, for the normal 2 hour river & wildlife tour. We chose to be married at the 1 hour point. Eight minutes into the boat ride, a huge alligator was sunning himself at river's edge. He clocked in at least 100 years old, indicated by his size. What a thrill, best wedding ever, at only 8 minutes.
.
Manatees, birds, turtles, perfect weather, etc. On the boat, below, the preacher began the vows with Beloved. Until that point everything had been perfect. As Beloved began reciting his vows, tears streamed down his cheeks. Would I even have a voice for mine? With tears and rough voice I was getting thru my own vows, to Beloved, and made the mistake of looking at our friends filling the pews. Every face had tears.
.
.
We get home, and it was a friend remarking about my choosing the St. Johns River.
.
.
Mario Buatta remarked, during the 80's in House & Garden, that we try to recreate the rooms that first impressed us as a child.
.
He was right, and I'll add, we try to recreate the garden that first impressed us as a child.
.
Why exactly had I chosen the St. Johns River? It's the closest I've seen since 1966 of what it looked like behind my parents house, on Clear Creek, Nassau Bay, TX. Where I played. Nothing had been built yet, it was me and the salt water, marsh, Spanish moss, tropical birds, fish, alligators, scents, the full package, same as the St. Johns River in DeBary, FL.
.
My friend understood my choice, before I did.
.
.
The friend making the remark, owns the garden where I met Beloved, below.
.
.
Her garden is, she already knows, my garden too. Big news about her garden, she doesn't know yet. Happy and proud it's BIG yet wish it weren't quite so big. I've made sure there are legal measures in place to keep this BIG news from getting bigger than she would want. We've got a late morning appointment this Friday to walk her grounds.
.
Pic, above, in the garden where Beloved & I met, and worked.
.
Read in the NYTimes, long ago, "The more we go inward, the more we outwardly connect."
.
Who knew being in gardens, one at a time, across decades, and continents, would connect to so much ? Making a life.
.
Garden & Be Well, XO T
.
Thank you for your outpouring of prayers and thoughts and stories. You've fortified me with your own strengths and beliefs in God. Beloved came thru surgery for cancer of the prostate August 1st, pathology report indicating he should now be clear of prostate cancer. He's still exhausted, sore, incisions healing, rather miserable but in joy at the grace of his outcome.
.
They've decided to give him a chemo treatment, beads, for his liver cancer. His liver transplant should take place in 6-8 months.
.
Our friends at home, your generosity of food ministry. Humbling. And friends who have already handled intensive caregiving, your love, hugs, advice, knowing laughter, getting me through.