Vision questing a barn this month. Construction was completed recently, and without intervention it is already perfect. Anything done must appear not-done.
.
Large, it will be used for family events, and professional. Cars, people, caterers, ease of use for all, without hindrance to views..
.
Maintenance must be insignificant.
.
Knowns include, hiding hvac/septic/trash, gravel, stone, meadow, ease of flow for cars/walking, large groups/small groups, social events/educational events, exterior lighting, meals en plein air, an impromptu lair for the owners,
An Irish landscape, above. Stark, beautiful.
Simplicity, above, to the bone. A bit of slope, perhaps add 'jewelry' with a stone wall, similar to the above using stones found on site.
At the doors, stone terraces, above, will keep most of the gravel off shoes, and interior vintage wood floors.
.
Ina Garten uses hedges, below, at her barn. I need to site the hedges to obscure the necessities, and allow 'flow'. Must be deer proof & evergreen.
Need shade at the barn for outdoor meals. Martha Stewart, used pin oaks at her barn, below. Perhaps 2-4 oaks sited, just right, for a harvest table, and the tractor.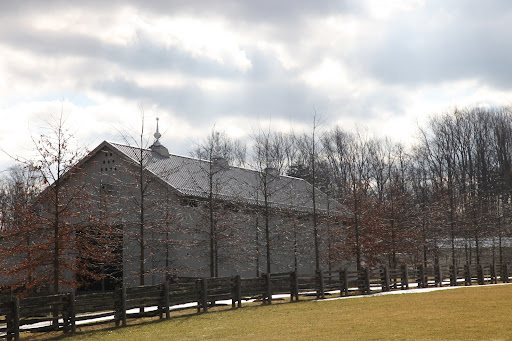 .
Once the necessities are sited, gravel, stone, trees, hedge, flow, the barn is 'done'. However, at that point, I'm open to adding a flourish, maybe a single espalier heirloom fruit tree, in the vein of Arne Maynard, below,
.
.
Along with knowing lavender will be planted, and several types of self-seeding flowers into the meadows at the barn.
.
This is the 1st salvo vision questing, next will be on site, alone for a couple of hours, then on site with the owner. After that, we set it aside, let the left/right brain magic play. Decisions made, then taken to the 'men' creating the literal landscape. Their input, from a base of decades experience, filling out the full breadth of the team. More changes. Finally, a garden beyond measure, exceeding expectations. Yes, exactly why I like working with a team.
.
Garden & Be Well, XO Tara
.
All pics from my Pinterest board,
here
.